Snow Jam '82
Atlanta, Georgia – Tuesday, January 12, 1982
Around fifteen years ago, after telling my story of what happened during Atlanta's Snow Jam '82 "a million times", I decided I'd dig around on the internet and find tons of information and, of course, lots of pictures. To my surprise, there was very little info about this unique day online at the time. So, on a whim, I created snowjam82.com as a way to gather photos, tell the stories and have some fun remembering Snow Jam '82!
Photos of Snow Jam '82
For the 40th anniversary of Atlanta's famous/infamous "Snow Jam '82", I was interviewed by the AJC (Atlanta Journal-Constitution) for an article on Snow Jam '82. They wanted to know more about SnowJam82.com, my reasons for creating it, and my thoughts on all things Snow Jam '82. During the interview, the reporter said they found some original photos from their archives, and the AJC graciously supplied them for use on SnowJam82.com. See all the new Atlanta Snow Jam '82 photos here.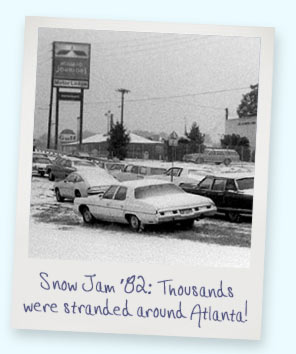 Crazy Weather, Great Stories!
The thousands who were part of this wacky weather event will never forget the day. Were you stuck at the office for two days? Did you slide off I-85? Or were you trapped in the 'parking lot' on I-285 and forced to walk home? Relive your memories and share them here.
Many were stranded by Snow Jam '82. At least one person was married in the midst of the storm, and another was actually born during the chaos! Check out all the reader-submitted memories of this weird Winter event from 1982.
Share Your Stories and Photos
If you have a story or picture from Snow Jam '82, please . Have printed photos, but no scanner? Contact me; I'll be happy to scan them for you and return them. Check back soon for updates.
More Information
Note: I posted this on the original SnowJam82.com in 2008 and keep it here as a reminder of how little information could be found online at the time. I've also kept the original design intact, more or less, as a nod to the "on a whim" way I started the site.😉
Though I didn't find a ton of information on the interwebs, there was some. Here's some of what I found for Snow Jam '82 information and pictures of the storm. (Some folks get here by searching for 'Snow Jam 83' and lots of folks search for 'Snow Jam 1981' or 'Snow Jam 81,' but the 'official' Atlanta Snow Jam was in 1982. Not too sure what happened weather-wise in 1981 or 1983...)
Atlanta 2014: Snowpocalypse, Snowmageddon, Snow Jam 2014... Thousands were stranded in or affected by Atlanta's January 2014 version of Snow Jam, many of whom may have been surprised to know that almost the exact thing happened in Atlanta before, but it did. Those of us who experienced the 1980's version were also surprised by how easily history (including stranded motorists and, this time, even kids stuck on school buses) repeated itself. Through the many stories shared on SnowJam82.com there are lessons that should be—and hopefully have been!—learned from the infamous 1982 winter storm.